DeSantis, visiting with 9/11 families, calls for 'transparency and accountability'
–
Florida Gov. Ron DeSantis attended a 9/11 commemoration ceremony at ground zero in New York City on Monday, appearing with more than a dozen people who lost family members on Sep. 11.
The group, many of whom are members of the grassroots organization 9/11 Justice, which represents other 9/11 families who accuse Saudi Arabia's government of involvement in the attacks — which the kingdom denies — led DeSantis and his wife, Casey, to the ceremony, where the couple stood in the back of a crowd while speakers read the names of each victim.
The group then brought DeSantis to the reflecting pools and inside the museum.
The governor, who is seeking the 2024 Republican presidential nomination, spent roughly three hours at ground zero.
"He [was] really taking it all in. I mean, we walked him through the museum and I could tell he was affected by it. He was asking a lot of questions. He was just genuinely moved. His wife, Casey as well," Dennis McGinley, a member of 9/11 Justice whose brother died on Sep. 11, told ABC News.
McGinley and many of the others who hosted DeSantis on Monday had already met them in May, when the couple invited the families to the governor's mansion in Tallahassee over Memorial Day.
The families wanted to "return the favor," Brett Eagleson, president of 9/11 Justice, told ABC News.
"He had brought us to Florida and gave us over an hour of his time," Eagleson said. "We wanted to bring him to a special spot for us."
The families said they were glad DeSantis released a statement Monday afternoon calling for the declassification of the remaining secret documents related to the planning of the 9/11 attacks, "consistent with national security."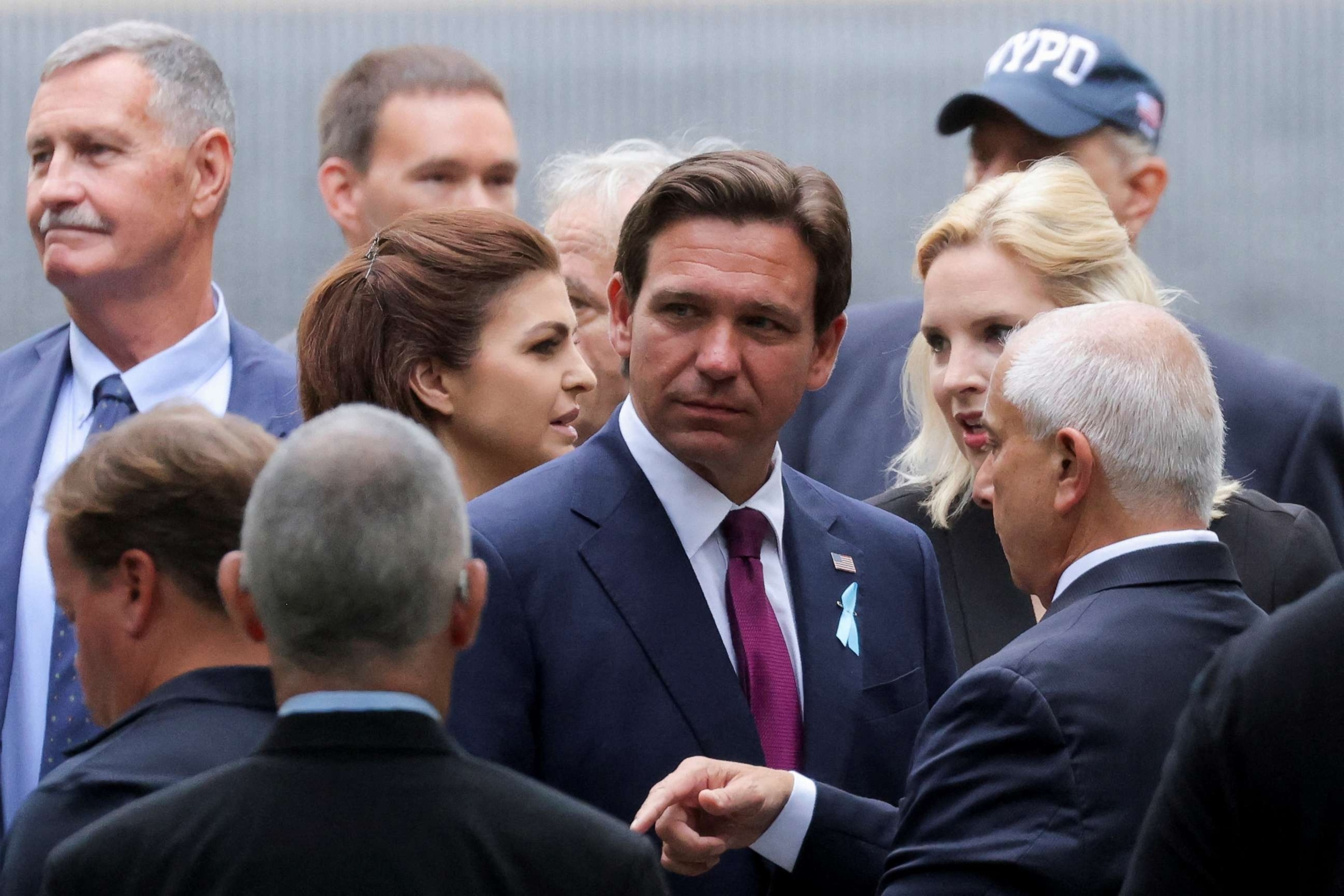 "While over the last three years some progress has been made, a selection of documents and answers remain unclear," DeSantis said.
"We as a nation still owe full transparency and accountability to these grieving families. Yet too many politicians have broken past promises to them, and that is wholly unacceptable," he said.
The language was firmer than McGinley had previously heard from DeSantis.
DeSantis also took issue with a potential plea deal — recently rejected by the Biden administration — for five detainees accused of aiding the 9/11 attackers. He called for a "public trial" with "public answers and maximum lawful punishment."
The same families who hosted DeSantis on Monday say they feel former President Donald Trump, the front-runner in the Republican primary race, spurned them several years ago when they say he promised to declassify 9/11-related documents only to do "a complete about-face," according to Eagleson.
Trump administration officials reportedly argued in court filings in 2020 that the documents were state secrets.
Though an FBI report declassified by the Biden administration in 2021 tied the 9/11 hijackers to Saudi nationals, the kingdom's leaders have maintained its government was not involved.
"Any allegation that Saudi Arabia is complicit in the September 11 attacks is categorically false," the country's U.S. embassy said in a statement in 2021.
Eagleson and McGinley have expressed frustration to ABC News over Trump's hosting a Saudi-backed LIV Golf event at his Bedminster, New Jersey, club this year.
Trump previously praised the organization as good for the sport and the U.S. economy.
thanks for reading our article about DeSantis, visiting with 9/11 families, calls for 'transparency and accountability'