Google Play Protect isn't waiting to scan your apps anymore
–
Summary
Google Play Protect now offers real-time threat detection by scanning sideloaded apps at the time of installation, functioning like an antivirus scanner on a desktop OS.
Play Protect already scans apps uploaded to the Play Store and allows manual scanning of apps and sideloaded APKs, but this update automates the scanning process for sideloaded apps.
The new feature is not yet available to most users, but it is expected to roll out with version 37.5 of the Play Store app in September 2023.
Google Play Protect is well known for scanning many apps — in fact, Android's de facto antivirus tool scans more apps than there are people on Earth every day through its routine checks. Since Google Play Protect became its own app in 2021, many have speculated about what new features might be in store, and it looks like a big one is rolling out soon.
In its latest Google System Updates changelog outlining new features being added to the Android OS through app updates, Google announced that Play Protect now offers real-time threat detection thanks to install-time scanning of sideloaded apps. This was pointed out in a tweet by Mishaal Rahmana well-known Android expert and contributor here at Android Police, which showed that Google will begin using Play Protect to scan apps downloaded outside the Play Store right at the time of installation.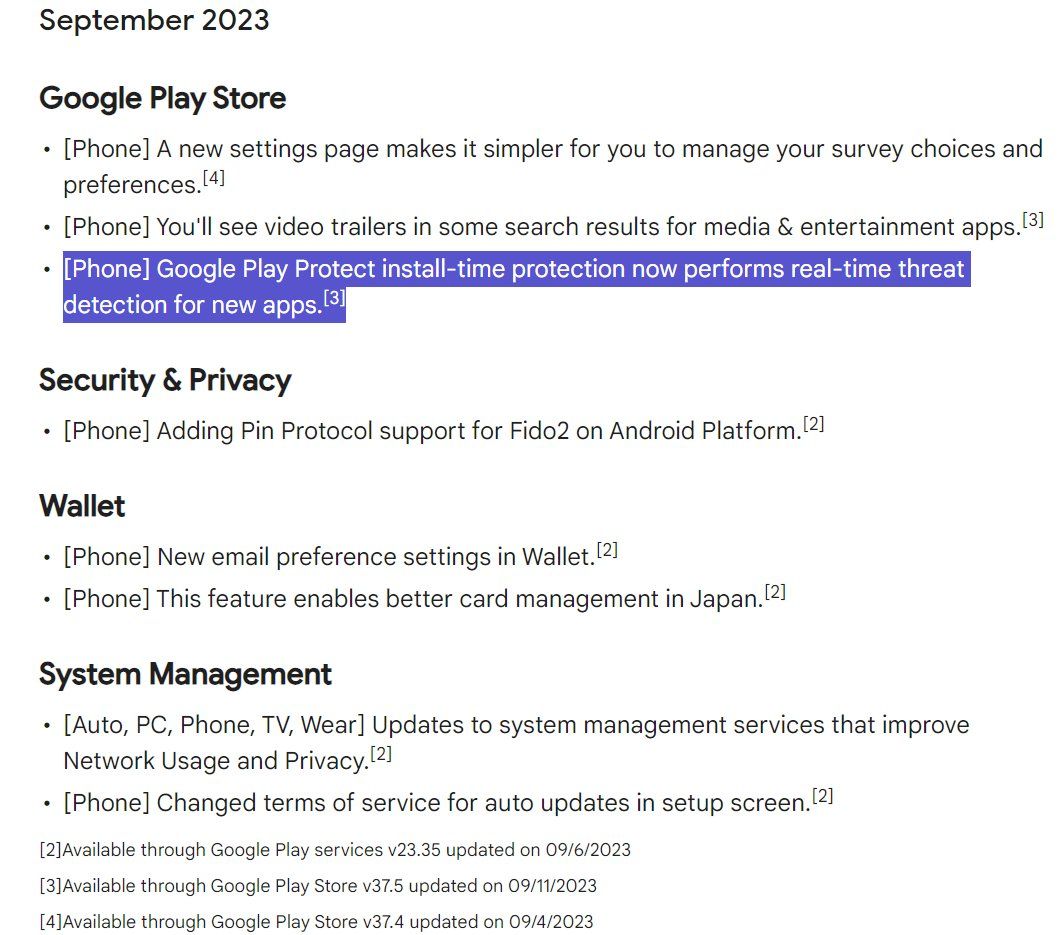 This doesn't mean that Play Protect wasn't scanning apps before — Google scans every app uploaded to the Play Store to check for malicious code, and it has used Play Protect for this since 2017, giving you a report for your specific installed apps in the Play Store's settings menu. You've also been able to manually trigger a Play Protect scan of your apps, including sideloaded APKs, from Android's security settings for quite some time. What's changing with this update is that Play Protect will now automatically scan sideloaded APKs as you install themfunctioning just like an antivirus scanner you might find on a desktop OS such as Windows.
As Rahman points out, Play Protect will already ask you to submit an app to Google for testing when you go to sideload an APK, which is likely meant to help gather data for this new scanning feature. This can be controlled under Settings → Security & privacy → App security on most Android builds, where there's a gear icon in the top-right corner that reveals two more options: Scan apps with Play Protect and Improve harmful app detectionboth enabled by default.
While the feature for Google to analyze sideloaded APKs is already live, Play Protect scanning at the time of sideloaded app installation hasn't rolled out to most users just yet, so we're not sure exactly how it will work beyond the obvious. It's included in the September 2023 section of the changelog, so we should expect it this month — but Google notes that the new capabilities will roll out with version 37.5 of the Play Store app, and the latest version on APKMirror is still 37.4 at the time of writing.


thanks for reading our article about Google Play Protect isn't waiting to scan your apps anymore